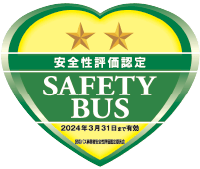 Helping to make your trip to Kumano comfortable and memorable.
Visiting the Koya Kumano Area? Leave it to us!
The Kii Peninsula is blessed with history, nature, and culture featuring the UNESCO World Heritage "Sacred Sites and Pilgrimage Routes in the Kii Mountain Range," Nanki Kumano Geopark and Yoshino Kumano National Park. With Ryujin Bus, you can visit these sites efficiently. Since its founding in 1927, starting with the Ryujin Line to connect Kii-Tanabe and Ryujin Onsen, Ryujin Bus now operates the Koyasan & Kumano Access Bus connecting both World Heritage regions.
In addition, when it comes to charter buses, our branch office in Osaka Prefecture (Sennan City) can supply a varied fleet of large, medium and small buses, meeting the needs of customers coming from regions all over Japan.
With over 90 years of experience, we provide reliable and comfortable trips.
bus lineupA diverse range of buses that can suit any budget, route or number of passengers.
Charter Bus Details
Large

No.
Bus Type
Length
Height
Capacity
Regular Seats
Auxiliary Seats
Toilet
Salon-style Seating
Power Outlet

(USB)

EDSS
Luggage Compartments
Connected Trunk Space
Wheel Base Distance
DVD
Water heater
Refrigerator
Bingo
1
Hino
11.93
3.38
60
49
11
2
○
6.20
○
○
○
○
2
Hino
11.93
3.36
60
49
11
2
○
6.20
○
○
○
○
3
Hino
11.99
3.44
60
49
11
3
○
6.08
○
○
○
○
4
Hino
11.99
3.50
59
49
10
3
○
6.08
○
○
○
○
5
Hino
11.99
3.50
54
49
5
○
3
○
6.08
○
○
○
○
6
Hino
11.99
3.50
54
49
5
○
○
3
○
6.08
○
○
○
○
7
Hino
11.99
3.38
60
49
11
2
○
6.20
○
○
○
○
8
Hino
11.95
3.57
60
49
11
3
○
6.08
○
○
○
○
9
Hino
11.99
3.50
60
49
11
3
○
6.08
○
○
○
○
10
Hino
11.96
3.50
59
49
10
3
○
6.08
○
○
○
○
11
Hino
11.99
3.52
50
42
8
○
3
○
6.08
○
○
○
○
12
Hino
11.99
3.50
50
42
8
○
3
○
6.08
○
○
○
○
13
Hino
11.99
3.53
50
42
8
○
○
3
○
6.08
○
○
○
○

Medium / Small Buses (rear seats face each other)

No.
Bus Type
Length
Height
Capacity
Regular Seats
Auxiliary Seats
Toilet
Salon-style Seating
Power Outlet

(USB)

EDSS
Luggage Compartments
Connected Trunk Space
Wheel Base Distance
DVD
Water heater
Refrigerator
Bingo
1
Mitsubishi
8.99
3.48
27
27
0
○
○
1
○
4.20
○
○
○
○
2
Hino
8.99
3.48
27
27
0
○
1
○
4.20
○
○
○
○
1
Mitsubishi
6.99
2.64
27
21
6
–
3.99
○
○
Equipped with various features that you can enjoy on the move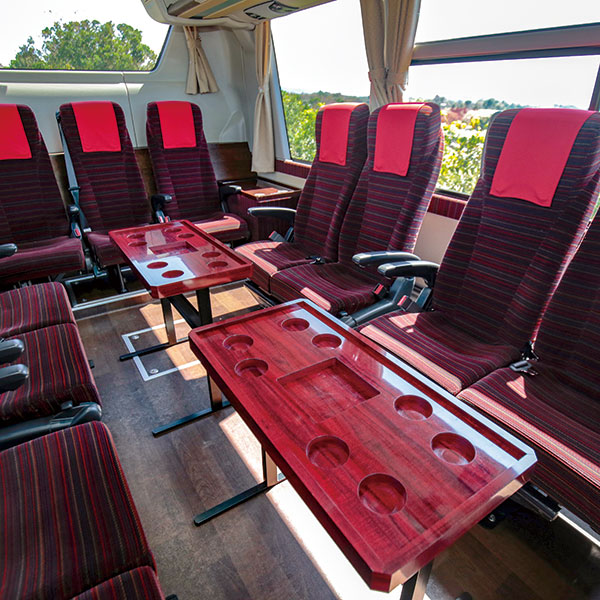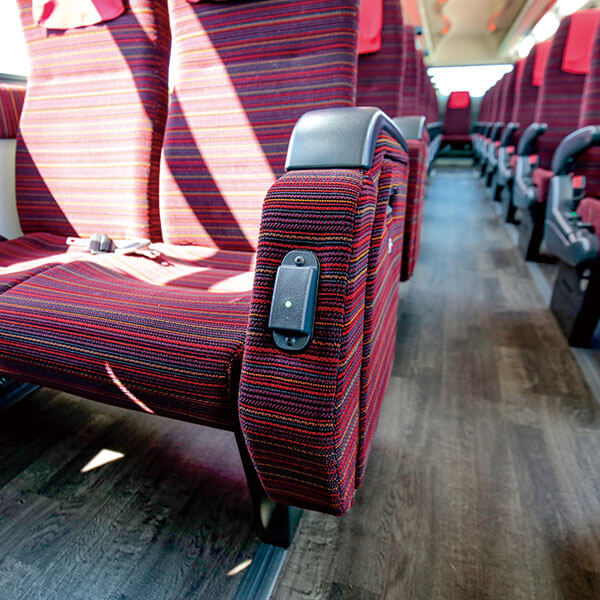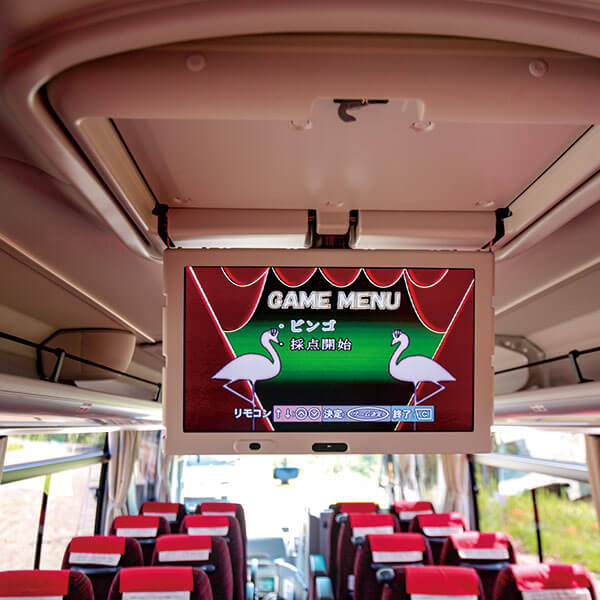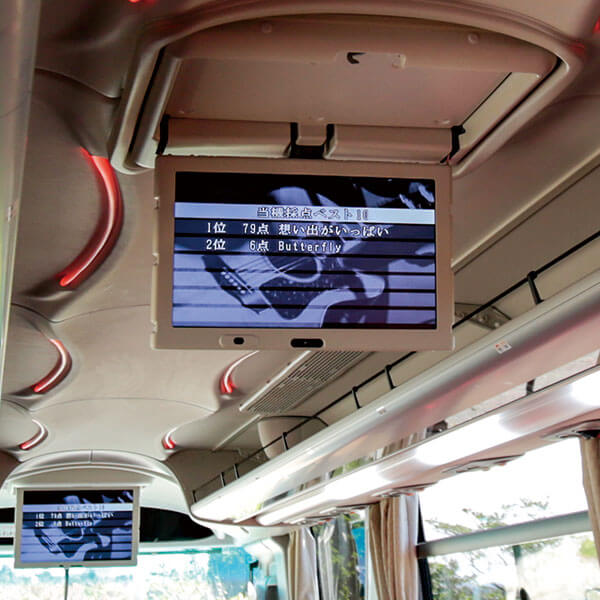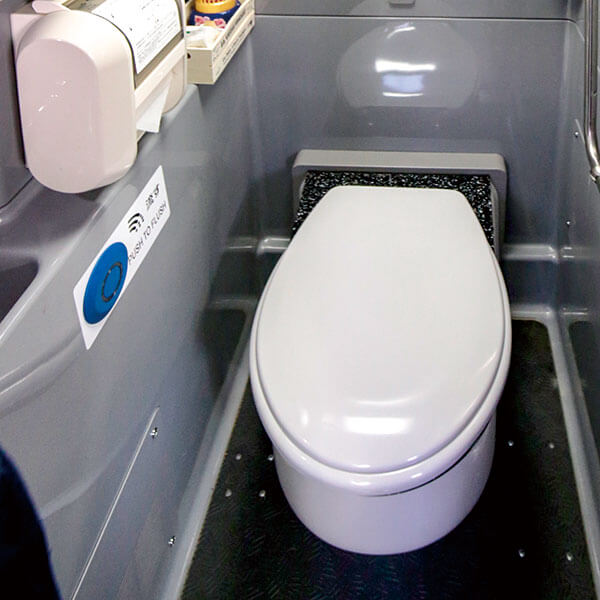 In order to enjoy your Kii Peninsula sightseeing experience to the fullest, our buses come fully equipped with karaoke, bingo, tables, sake heaters, refrigerators, toilets, power outlets and more.
Facilities vary by bus. Contact us directly for inquiries and we will be happy to try and accommodate your needs.
Complete safety is our guarantee
Health Management

We strive to prevent accidents potentially caused by poor health of drivers by reviewing the health condition of drivers and providing appropriate guidance. After joining the company, each driver undergoes an SAS (Sleep Apnea Syndrome) test and a biannual health checkup.

In an effort to ascertain their daily health condition, we have face-to-face contact with drivers when they clock in and clock out. We check blood pressure, administer alcohol numerical tests and make use of an IT check-in system. In addition, we carry out stress checks once a year and provide appropriate guidance.

Operation Management System

We have introduced the latest equipment, such as digital tachographs, drive recorders (5 cameras), IP radios, GPS, etc. to all vehicles, and strive to grasp operation status in near real time in order to strengthen our operation management system.

Continually Updating our Fleet

In addition to vehicles coming equipped with PCS (Pre-Collision Safety system) and VSC (Vehicle Stability Control system) that significantly reduce collision damage with a vehicle in front, we have also newly equipped vehicles with EDSS (Emergency Driving Stop System).

Inspection / Maintenance

We have set up a maintenance shop at the Wakayama (Tanabe) sales office, and in addition to inspections every three months which are stipulated by law, our own mechanics inspect all vehicles monthly to further ensure safety and security. We also do our utmost to address unexpected breakdowns early in the morning, late at night or in remote locations.
About Charter Bus Usage
Restriction of Operation Time

Drivers' working hours, driving time, preparation time, etc. are set to prevent overwork as stipulated in the Ministry of Land, Infrastructure, Transport and Tourism's "Standards for Working Hours and Driving Hours of Business Vehicle Drivers" (Notification of Standards for Working Hours, etc.).

Driving Times

Less than 9 hours in one day (for 2 days on average), less than 4 hours of continuous operation. Drivers must take a break of 30 minutes or more within 4 hours of departure or after 4 hours have passed. Alternatively, a series of breaks of 10 minutes or more can be taken within the 4 hours.

Adherence to Appropriate Speeds for Safe Driving

Maximum speed limits for each area vary and must be observed. Obstacles such as construction work and traffic lights often slow down or cause traffic to stop. For this reason, it is not possible to travel the entire distance at the upper limit of the speed limit in one area. Please plan your itinerary with this in mind in order to ensure a safe and comfortable trip.

Wearing Seat Belts

Road Traffic laws require passengers wear seat belts. Note that the bus guides may leave their seats to complete work-related duties, but for safety reasons, may remain seated when guiding you.

Bringing Personal DVDs Aboard

Screening a DVD other than those related to work is considered copyright infringement. DVDs brought aboard cannot be screened.

Regarding Requests for Vehicles

Please provide your final itinerary as soon as possible. We may be unable to satisfactorily meet the needs of last-minute requests.
In order to help us accurately allocate transportation, please provide detailed maps with pick-up/drop-off points and your planned approach to them as well as directions for your route. Also, please arrange for the bus arrival about 15 minutes prior to departure.
Clearly identify passenger pick-up / drop-off points, direction of bus movement, parking locations and any other information related to the operation of the bus so that it does not cause disruption to others.
It is not possible to enter an area restricting large vehicles or to park at a bus stop on an expressway.
Please prepare and arrange necessary permits, such as road permits, parking lot permits, admission permits, etc. Please have those permits handy at all times.

Request for Understanding Bus Operations

To ensure safety, we ask your cooperation in following the instructions regarding the operation and duties of the bus crew.
For night driving or continuous operation time exceeding 16 hours, a spare driver will be on board. In this case, please allow the two seats in the first row on the driver's side to be used as the spare driver's seats.
If the total working time for two drivers exceeds the legal limit of 20 hours, including round-trip night buses, regular night bus, and return night bus, please arrange a nearby accommodation to allow the drivers to rest or have a short sleep.

Cancellation Information

Based on the standard conditions of the General Passenger Transportation Business Act, the following categories of penalties will be charged for cancellation of reservations.

Cancellation / Penalty Fees

4 to 8 days before dispatch, 20% cancellation fee

24 hours to 3 days before dispatch, 30%

Within 24 hours of dispatch, 50%

If 20% or more of the reserved vehicles are cancelled, the above penalties will apply for the cancelled vehicles.
In the case of natural disasters or other unavoidable circumstances, penalties will not apply.

Other Important Information

Please prepare toll road and parking lot fees in cash in advance of departure.
Reservation / Inquiry
FAX : 0739-24-1212 24-hour reception

37-20 Akebono,Tanabe-shi,Wakayama,Japan 646-0021Google Map

072-466-5551

(Open 09:00 to 18:00 except Sundays and public holidays)

FAX : 072-466-2800 24-hour reception

1704 Okada,Sennan City,Osaka,Japan 590-0531Google Map

Tokyo Sales Office(Chartered Bus Reservation Center)

03-5808-9668

(Open 09:30 to 18:30 except Saturdays, Sundays, and public holidays)

FAX : 03-5808-9387 24-hour reception

C/O Nippon Reserve 2-16-7 2F Iriya,Taito-ku,Tokyo,Japan 110-0013Google Map